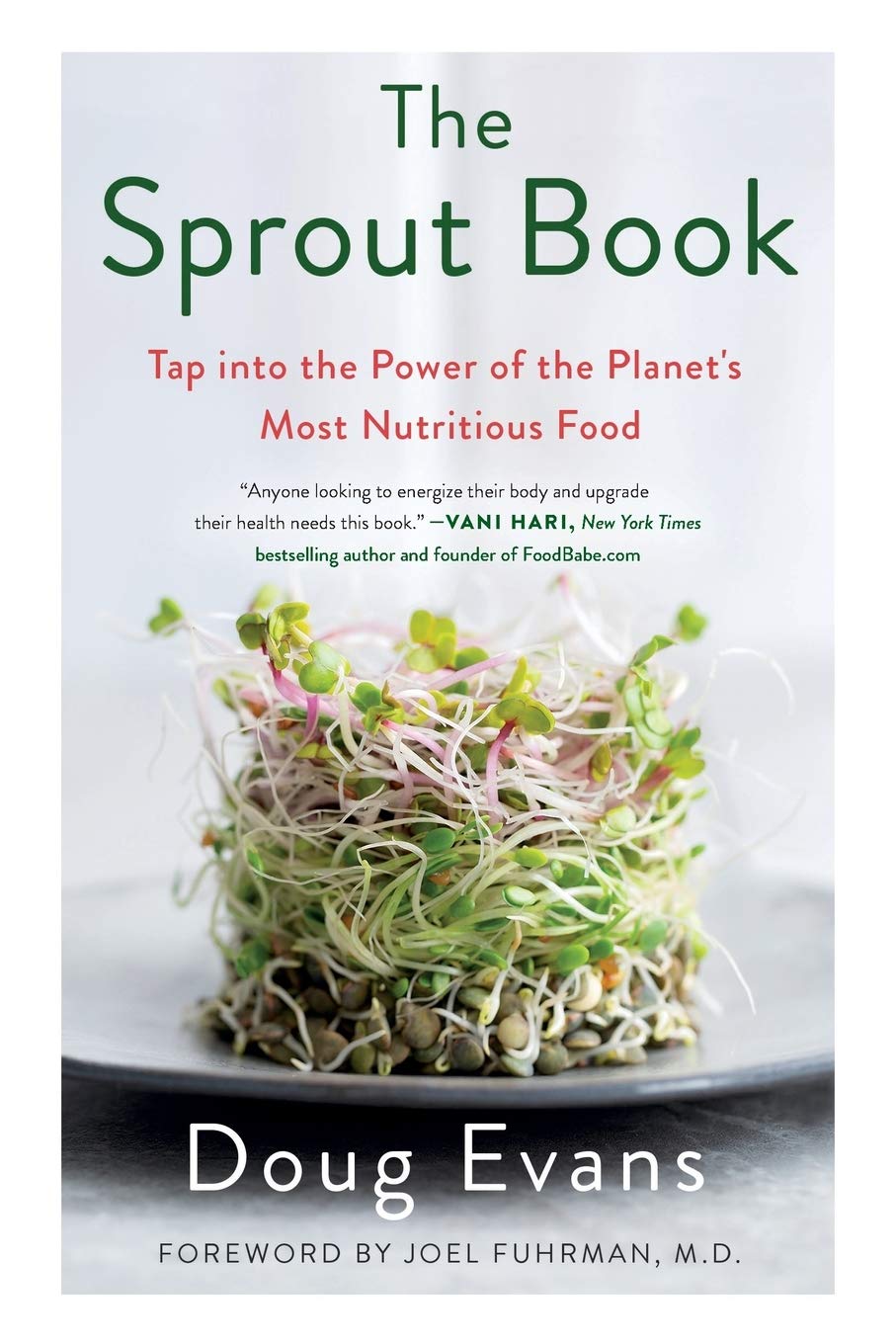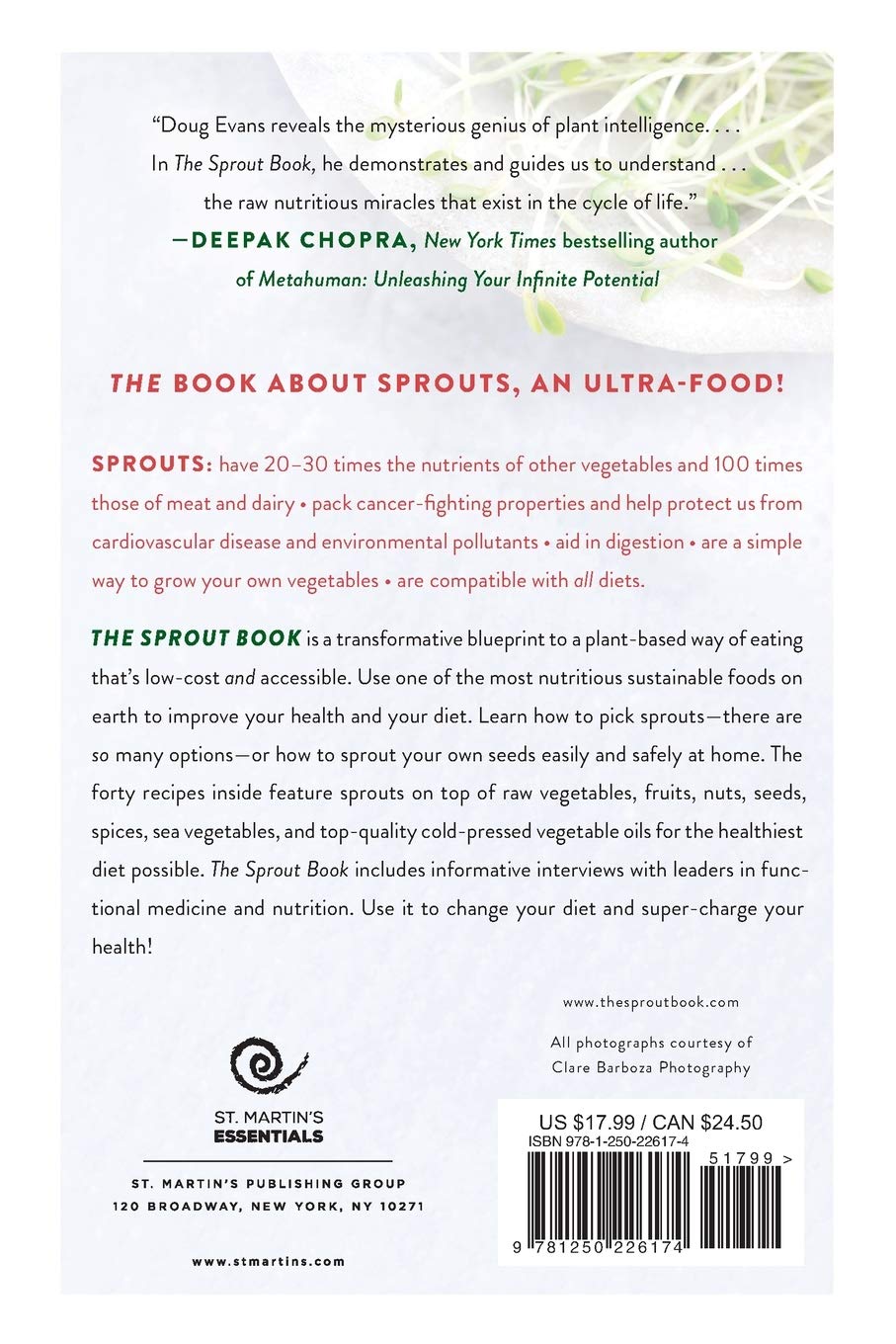 The Sprout Book: Tap into the Power of the Planet's Most Nutritious Food | Doug Evans
Please select all options.
The book about the power of sprouts as an ultra-food for health, weight loss, and optimum nutrition by Doug Evans, the co-founder of Organic Avenue and the founder of Juicero

The Sprout Book is a transformative plan to empower readers to embark on a plant-based way of eating that's low-cost and accessible. With a foreword by Joel Fuhrman, M.D., this book introduces sprouts, one of the most nutritious sustainable foods on earth, by adding a few dishes to a diet and then shifting into a raw, whole foods plant-based diet.

Among the mind-blowing nutritional qualities of sprouts:
― they have 20-30 times the nutrients of other vegetables and 100 times those of meat
― they pack cancer-fighting properties and help to protect us from cardiovascular disease and environmental pollutants
― they aid in digestion
― they are a simple way to grow your own vegetables and compatible with all diets

The forty recipes inside feature sprouts on top of raw vegetables, fruits, nuts, seeds, spices, sea vegetables, and top-quality cold-pressed vegetable oils for the healthiest diet possible. The Sprout Book includes informative interviews with leaders in functional medicine and nutrition. Use it to change your diet and super-charge your health!
––––––––––––––––
"Sprouting increases nutrient levels without increasing calories. And growing sprouts at home is inexpensive, safe, easy, and fun. The Sprout Book is the source for adding this superfood to your diet!"
―Dr. Mehmet Oz

"Doug Evans reveals the mysterious genius of plant intelligence . . . . In The Sprout Book, he demonstrates and guides us to understand the miraculous power of the natural order, and the raw nutritious miracles that exist in the cycle of life."
―Deepak Chopra, New York Times best-selling author of Metahuman: Unleashing Your Infinite Potential

"'Organic Doug,' as we call him in our house, has been positively influencing my family for over a decade. First with grab-and-go organic foods and now with sprouts. I am amazed at how easy The Sprout Book makes it to add this incredibly nutritious food to your diet!"
―Jesse Itzler, entrepreneur, New York Times best-selling author of Living with a SEAL, and co-owner of the Atlanta Hawks

"Sprouting foods can add to their nutritional value. In this comprehensive yet easily accessible book, Doug Evans shows you how and why."
―Dean Ornish, M.D., author of Undo It!

"Sprouts can be a fun and affordable way to access fresh food. The Sprout Book will show you how to bring sprouts to life in your own home."
―Brian Wendel, president of Forks Over Knives

"Is there a nutritious, easy to produce, easy to grow, absolutely effective food category that we can all agree is wonderful? Doug Evans has made that choice, and I agree with him wholeheartedly: that food is sprouts. Young sprouting plants make us youthful, provide a wonderful addition to nearly every meal, taste delicious, are rich in gentle fiber and healthy minerals for our skin, hair, and nails, and can get you growing something in nearly every living situation. No matter what our diet, let's all get together with Doug Evans and eat more sprouts!" ―David Avocado Wolfe, author of The Sunfood Diet Success System, Eating for Beauty, and Chaga: King of the Medicinal Mushrooms

"Not everyone can grow a garden, but anyone can sprout and Doug Evans provides a practical guide to sprouting on your own! This is a must-read book that will result in your experiencing the miracle of sprouts."
―Liana Werner-Gray, bestselling author of The Earth Diet & Cancer Free with Food and Health & Nutrition Coach
About the Author
Doug Evans
is a serial health food entrepreneur―selling to the stylish and chic as well as to the rest of us. He founded Juicero on the hardware side (and raised $120 million for the company that made the wifi-connected home cold-press juicer, "the Tesla of juicers") and co-founded Organic Avenue on the storefront/food production side.
Joel Fuhrman, M.D.,
is a board-certified family physician in private practice in Belle Mead, New Jersey, who specializes in preventing and reversing disease through nutritional methods. He is an active staff member of Hunterdon Medical Center and provides nutritionally oriented medical care to patients as well as nutritional education to other physicians. He is the author of
Disease-Proof Your Child
.
Very Informative
This book is the perfect guide to sprouting!
The Sprout Book
Doug Evans is amazing. Really am enjoying this book.