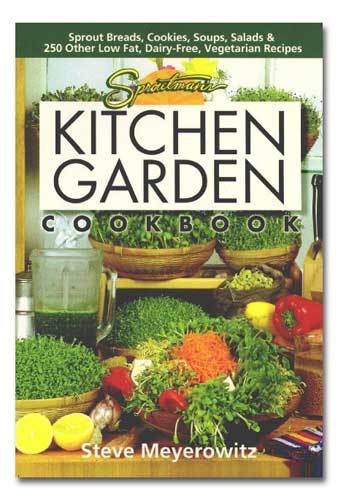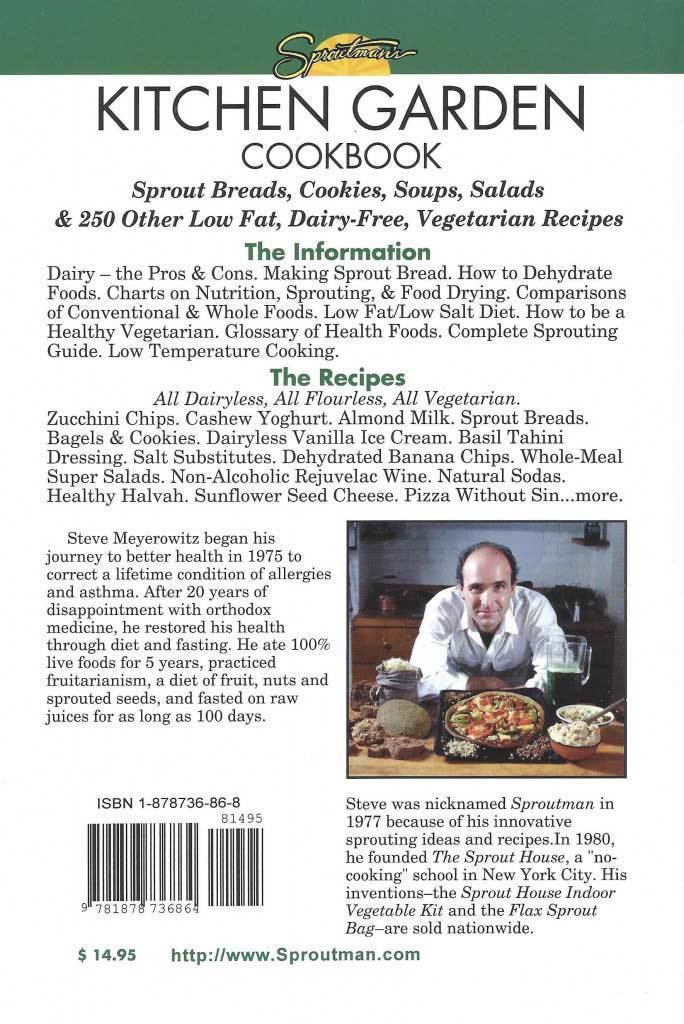 Sproutman's Kitchen Garden Cookbook
Please select all options.
Topics include:
Dairy – pros & cons.
Making sprout bread.
How to dehydrate foods.
Charts on nutrition, sprouting, & food drying.
Comparisons of conventional & organic, whole foods.
Low-fat and low-sodium diets.
Healthy vegetarian recipes.
Glossary of health foods.
Complete sprouting guide.
Low temperature cooking.
"I just obtained a copy of your book….love it…so much more info than a "cookbook." I can't wait to try my first sourdough bread tonight. I am using rye berries and have sprouted for two days as you recommended." - Charles Torre
Recipes included for Zucchini Chips, Cashew Yoghurt, Almond Milk, Sprout Breads, Bagels, & Cookies, Dairyless Vanilla Ice Cream, Basil Tahini Dressing, Salt Substitutes, Dehydrated Banana Chips, Whole Meal Super Salads, Non-alcoholic Rejuvelac Wine, Natural Sodas, Healthy Halvah, Sunflower Seed Cheese, Pizza without Sin...and more.
Hundreds of Healthy Recipes All Prepared from Sprouted Seeds
Bread
Nut Milks
Dressings
Crackers
Soups
Veggie Burgers
Cookies
Dips
Croquettes
Snacks
Juices
Casseroles
Dairy-free Ice Cream + Cheeses
ISBN: 978-1-878736-86-4. 336pg. ppbk. Sproutman Publications July, 1999 Library of Congress Catalog Card Number: 99-90518