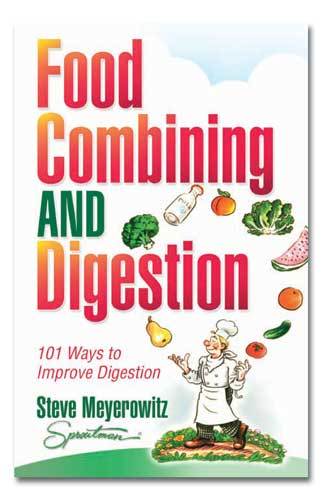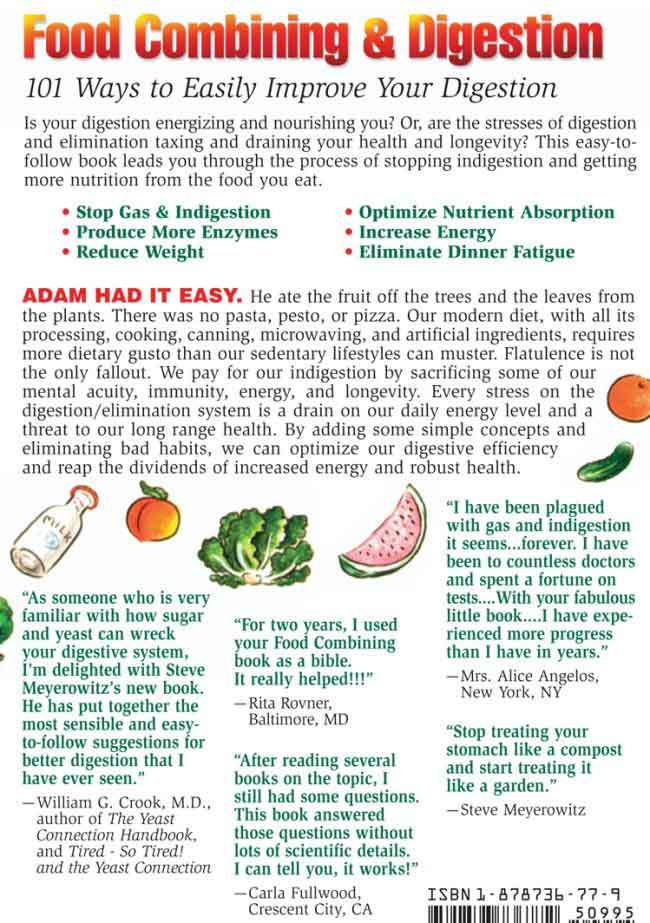 Food Combining & Digestion
Please select all options.
101 Ways to Improve Digestion
Stop treating your stomach like a compost and start treating it like a garden!
by Steve Meyerowitz
Illustrated by Rick Meyerowitz
This book contains easy-to-follow techniques to increase stomach power and maximize digestion.
| Including: | |
| --- | --- |
| Eliminate Indigestion | Stop the Gas |
| Produce More Enzymes | Rebuild Immunity |
| Optimize Assimilation | Slow the Aging Process |
| Increase Energy | Learn Better Discipline |
| Reduce Dinner Fatigue | Over 50 Charts & illustrations |
Your digestive tract is the busiest organ in your body. Day after day, year after year, it maneuvers pounds of food inside you. Is your digestion energizing and nourishing you? Or, are the stresses of digestion and elimination taxing and draining your health and longevity? This easy-to-follow book leads you through the process of stopping indigestion and assimilating more nutrition from what you eat. Adam had it easy. He ate the fruit off the trees and the leaves from the plants. There was no pasta, pesto, or pizza. Our modern diet, with all its processing, cooking, canning, micro-waving, and artificial ingredients, requires more dietary gusto than our sedentary lifestyles can muster. Flatulence is not the only fallout. We pay for our indigestion by sacrificing some of our mental acuity, immunity, energy, and longevity. Every stress on the digestion/elimination system is a drain on our daily energy level and a threat to our long range health. By adding some simple concepts and stopping bad habits, we can optimize our digestive efficiency and reap the dividends of increased energy and robust health.
Steve Meyerowitz discusses Food Combining & Digestion (3 min 11 sec):
Man can survive on only one third of his daily food intake. The other two thirds goes to benefit the health insurance and medical care industries. – Steve Meyerowitz
ISBN #978-1-878736-77-2, 2002 ed. ppbk. 128pgs.