BE READY FOR ANYTHING.
Start Sprouting Your Own Supergreens
If you're looking to

take your food

(& health)

into your own hands…
You probably know that growing your own food is the most self-reliant way to eat. You get to be in control of your wellbeing and know exactly where your sustenance comes from (without worrying about supply chain delays). But if you don't have a little plot of land to garden—or any hope of a green thumb—you might think to yourself: screw it, who needs fresh greens anyway?

You do. No matter how many green supplement powders you buy, the absolute best way to stock up on nutrition, support your energy and immunity, and experience your most powerful health is by eating freshly grown foods. But what most people don't realize is that you don't need to become a farmer to reap the benefits of a bounty of fresh greens. Anyone can grow their very own greens—even if you don't have any soil or sunlight…
The one supergreen that anyone can easily grow in their own kitchen is sprouts.
Sprouts are the superfood baby versions of vegetables. Most of the full grown veggies you eat are even better when eaten in their sprout form—including broccoli, arugula, pea, kale, radish, mung beans, chickpeas, and lots more. At only one week old, they are particularly supercharged with nutrients—but they don't need any soil or sunlight to grow!
✅ 40x more nutrients than supermarket greens
✅ Easy to digest plant protein
✅ Super fresh + packed with flavor
✅ Grow + harvest in less than 7 days
How to Grow Your Own Multivitamins (aka Sprouts)
STEP 1:
Soak 2-5 tablespoons of seeds in room temperature water in a glass jar or Sprout Bag overnight. Drain the water.
STEP 2:
Water your seeds 2x a day—every am & pm. Allow excess water to drain by tilting your jar or hanging your bag.
STEP 3:
Harvest your pounds of sprouts in 3-7 days!
❌ Plot of land or soil
❌ Sunlight
❌ Gardening skills
❌ Fancy equipment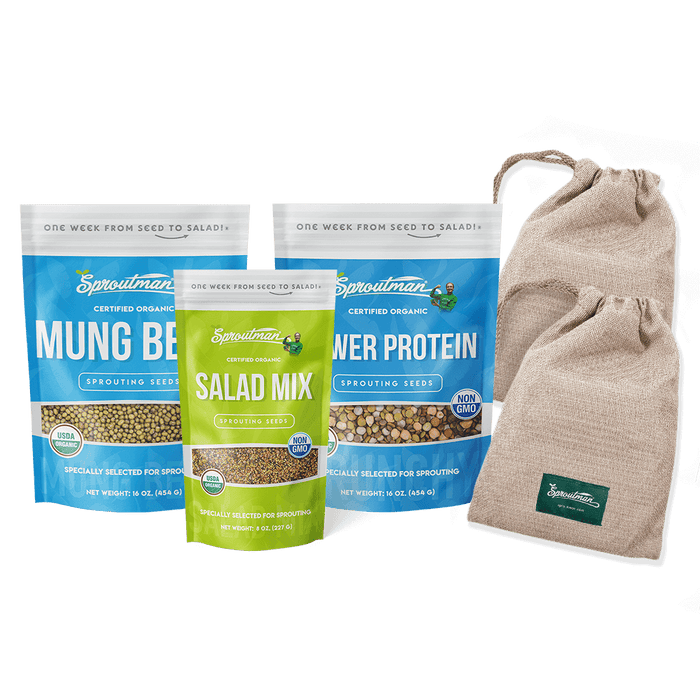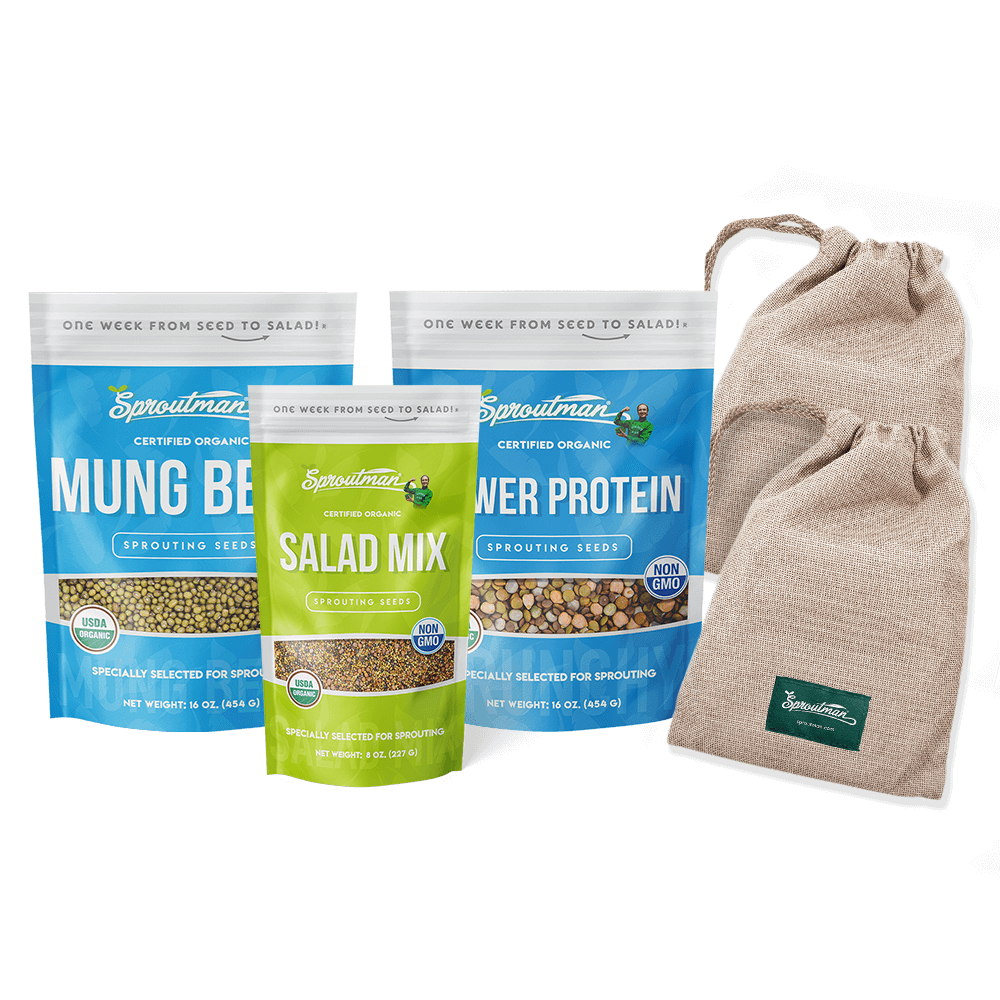 The Starter Kit
Grows up to 14 lbs of fresh organic greens!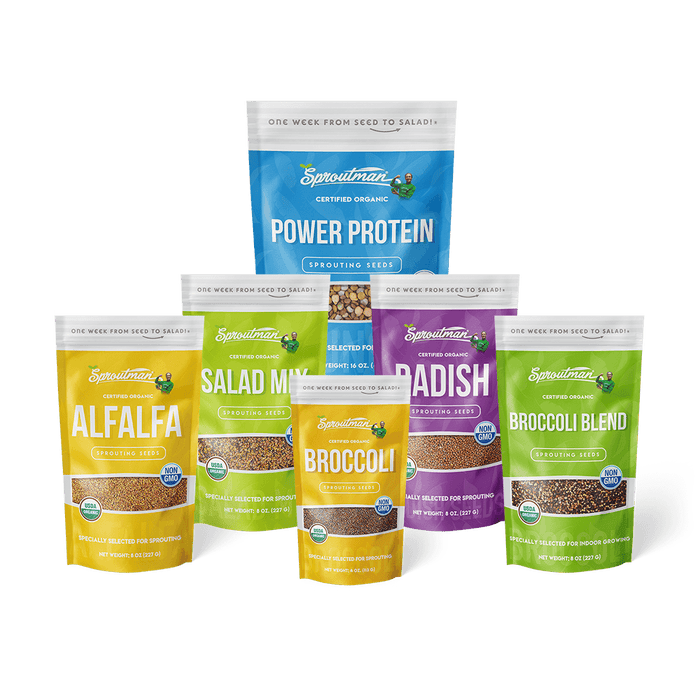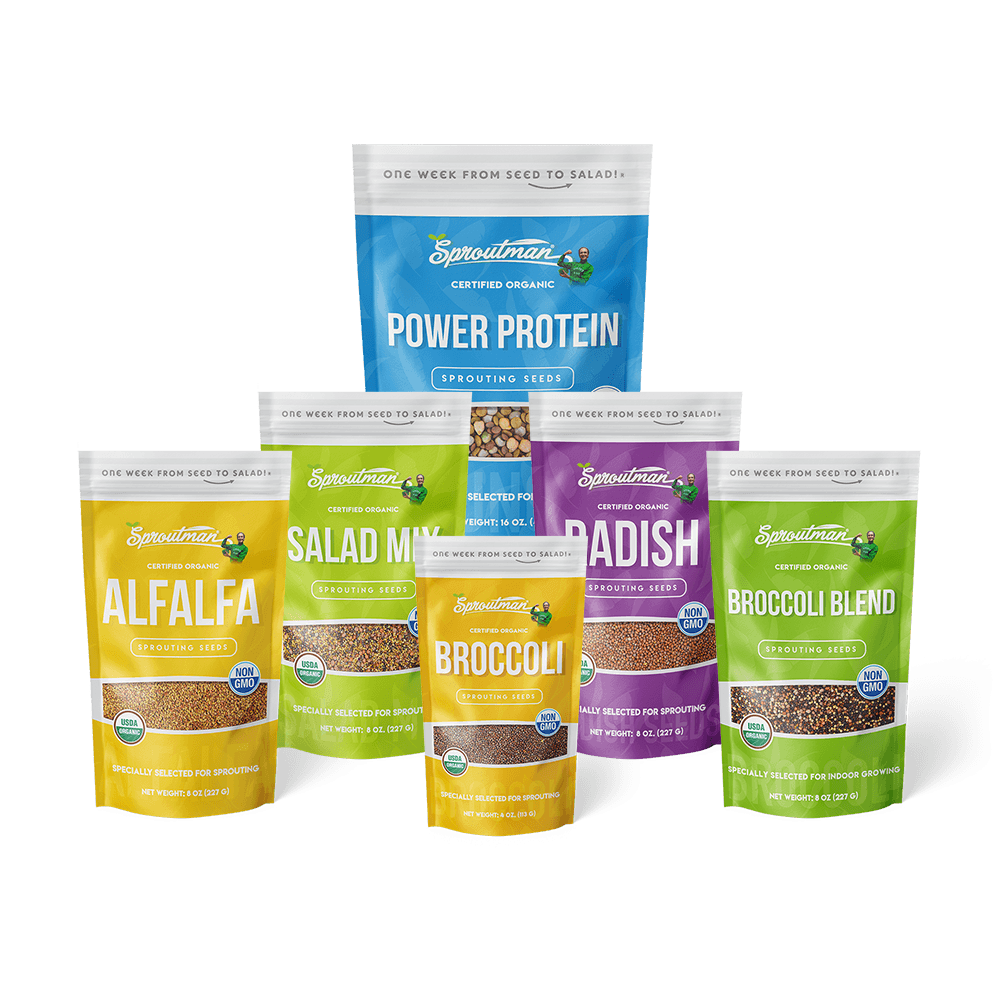 Beginner's ½ Dozen
Grows up to 26 lbs of fresh organic greens!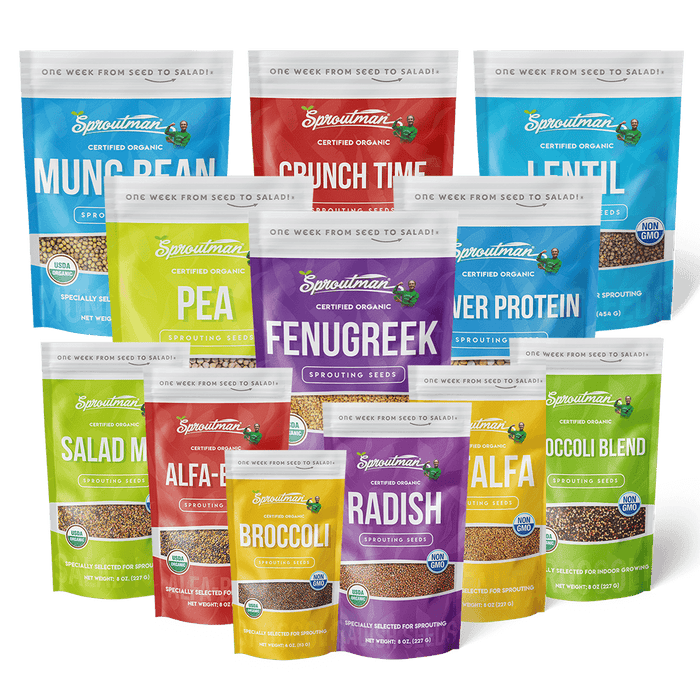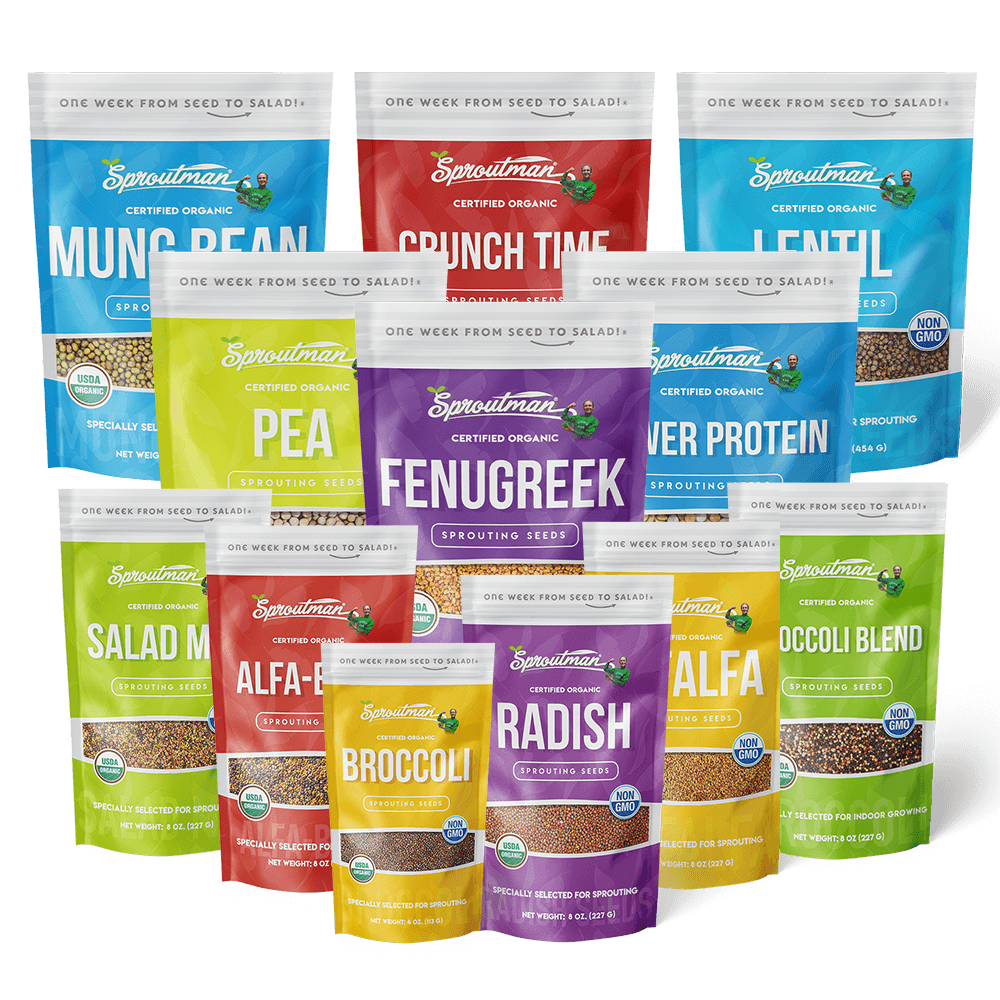 The Essential Dozen
Grows up to 60 lbs of fresh organic greens!
Within no more than 1 square foot of counter space, you can grow pounds and pounds of nutritious greens every week in even the smallest tiny house, cabin, apartment, or van kitchen.
Shelf Stable, Off-the-Grid Greens
You can easily store your sprouting seeds in a dark, cool cabinet for between 2 to 5+ years (depending on the variety). When you're ready to grow, simply soak your seeds in water overnight to wake them up—and you're prepped to sprout!
5 Ways to Eat Your Sprouts
🥗 Make a big superfood salad with a handful of Salad Mix, some mung beans, Power Protein, and your favorite dressing. (No lettuce needed!)

🥙 Sprinkle your favorite sprouts on and into sandwiches, toast, wraps, smoothies, and soups.

🥘 Lightly sauté sprouted beans (like Crunch Time) into coconut milk, spices, and rice for a rich and protein-packed curry or stir fry.

🍝 Blend broccoli sprouts with nuts, lemon, and olive oil for a bright green, antioxidant-rich pesto pasta sauce.

🍔 Blend raw sprouted lentils, mung, and Power Protein in a food processor to make a veggie burger or hearty baked veggie loaf.
Try a Sprout Bag
Easily hang your harvest above your sink in this 100% natural hemp bag with a special weave designed to mimic the breathability of a sprout's natural environment—soil!
Or a Sprouting Jar
Our 64 ounce glass sprouting jars come with a stainless steel mesh lid to help your sprouts breath and drain excess water. Stash it on an angle on your dish rack and watch your supergreens grow!
100% Satisfaction Guarantee
We always want you to be healthy and happy. If for any reason you're unsatisfied with our products, we'll work with you to make it right.
Hi there, we're Ari & Noah—the Sprout Brothers.
We believe sprouts have the power to change the world. Our dad, Steve Meyerowitz, founded Sproutman in 1977 after sprouts drastically improved his chronic health issues. We are committed to continuing his important work by introducing as many people as we can to these incredibly powerful and widely accessible superfoods.

Sproutfully,
Ari & Noah