Ari and Noah Meyerowitz are the Sprout Brothers. They're actual brothers, too! They grew up in the Sprout House with their mother, father, sister, dog, and many sprouts. Their father was Steve Meyerowitz, Sproutman. They watched as he traveled the world educating and introducing people to the wonders of sprouting, juicing, and good health.
Sproutman was a pioneer in creating awareness of the health benefits of sprouting, vegetarian and veganism, raw food, juice diets, and a healthy organic lifestyle. He developed and sold revolutionary sprout growing methods and units, and sourced organic sprouting seeds of the highest quality. He was an educator, getting his start at his "no cooking" school, in New York City c. 1977. He promoted juicers, blenders, dehydrators, and water purifiers at a time when no one else was doing so. Steve is the author of ten books––his writings and overall message continue to have a profound influence on many thousands of people around the world.
Steve died from injuries sustained in a car accident in September of 2015. His life was cut short, but it was truly well lived.
Ari and Noah have taken overthe business, and are on the road sharing the crusade of Sproutman. His mission lives on; helping people reclaim and maintain their health and vitality. The Sprout Brothers are proud to inherit such a wonderful legacy.

Sproutman® is a leading promoter, publisher, manufacturer and distributor of high quality, specially selected natural products for diet, health and wellness. Steve Meyerowitz founded the company in New York City in 1977. He invented the fabric sprout bag, the "Sprout House" grower, and the interactive color sprout chart. From the beginning, Sproutman has been an innovator of high quality sprout-specific seeds and uniquely designed home sprout growers.
At Sproutman®, all of our products and services are intended help improve your health and wellness. Our motto: Reclaim your health. The entire team at Sproutman believes that your health is your most precious asset and we want to help you achieve your full wellness potential.
Sproutman® products are sold in 13 countries. Sproutman books are translated into 11 languages. Sprout Brothers traveling the world spreading the word about how to "Reclaim Your Health."
Steve Meyerowitz, Sproutman®
Our founder. 1950-2015.
Steve was pronounced "Sproutman®" by Vegetarian Times Magazine in a 1979 feature article that explored the why's and wherefores of his 100% sprout diet. While over 2 decades time, most diets change, Steve is still a big "believer" in healthy diet and lifestyle.
Steve got interested in natural foods after a 20 year effort to correct chronic allergies and asthma with conventional medicine. He made dramatic changes in his diet and within two months of eating a strict "living foods," vegetarian diet, his lifelong symptoms vanished. He continued to practice a 100% raw foods diet (nothing cooked, packaged, canned, frozen, or processed) for five years. During that time, he also experimented with other extreme diets such as fruitarianism (just fruit), juice fasting for as long as 100 days, and briefly, breatharianism (no food, no water).
Steve's innovative kitchen gardening techniques and the cuisine he developed from them, gave rise to a "School for Sprouts." He began teaching indoor gardening 12 stories above the streets of New York City. He called his no-cooking school, The Sprout House, since so much of his cuisine included vegetables from his kitchen garden-sprouts. Steve invented two home sprouters, The Flax Sprout Bag and a tabletop greenhouse called, Sproutman's Kitchen Garden Salad Grower. He also supplied his growing kits and a full line of organic sprouting seeds via mail order.
Steve has since sold the mail order business and he and his family now breathe fresher air in the Berkshire mountains of Massachusetts. Much of the information from his teaching years have been related in his books. He has the most popular books on sprouts, including Sprouts the Miracle Food, Sproutman's Kitchen Garden Cookbook, and Wheatgrass Nature's Finest Medicine, to name a few. But he also has other books on subjects such as fasting and raw juice therapy.
Steve has been featured on Web MD, Raw Food World, Natural Health 365, Natural News, Renegade Health Show, Hippocrates Health Institute, PBS, QVC, the Home Shopping Network, TV Food Network, and in Prevention, Better Nutrition, and Organic Gardening magazines. In 3 minutes on QVC, 953 people ordered his Cookbook and Kitchen Garden Salad Grower.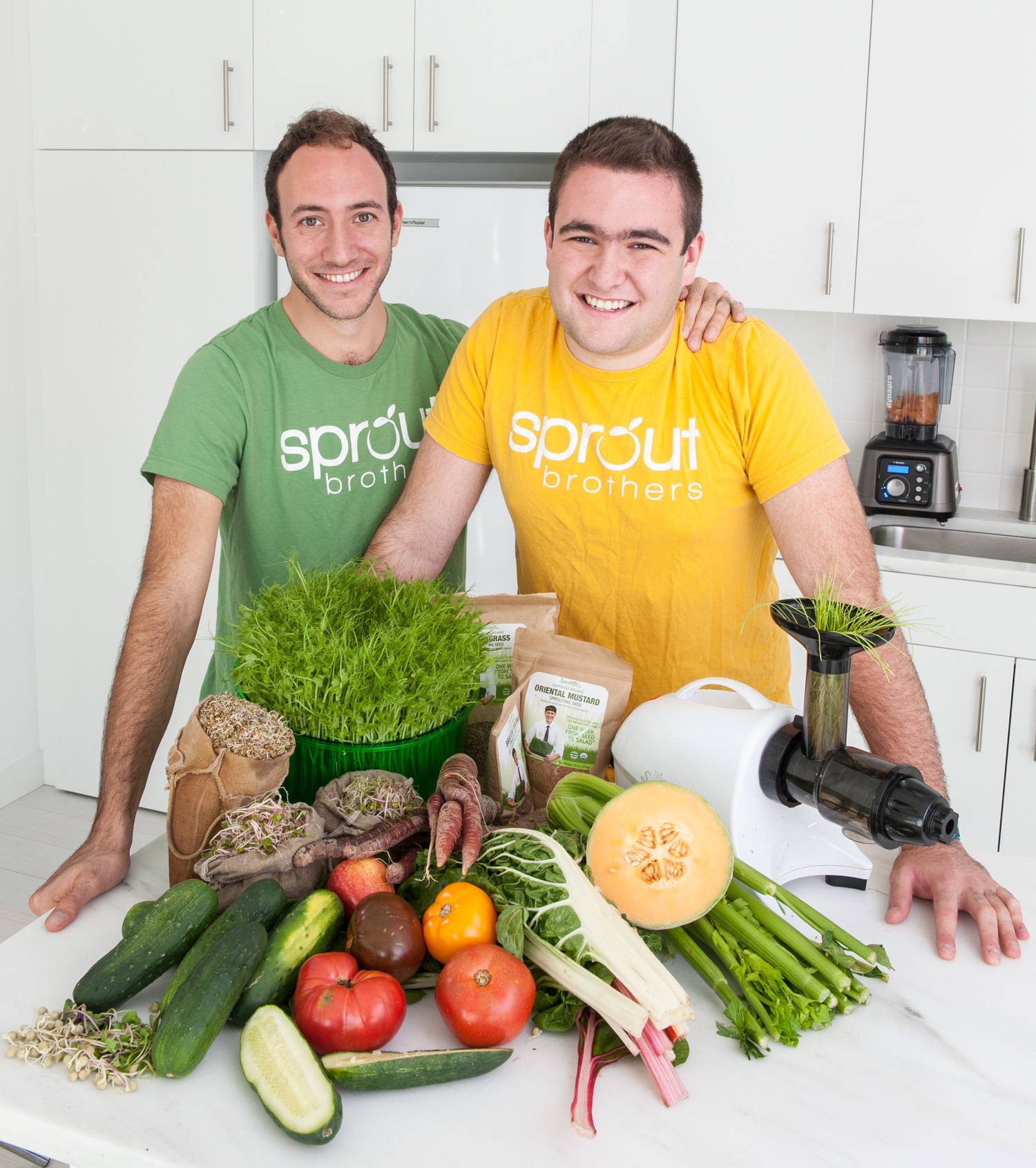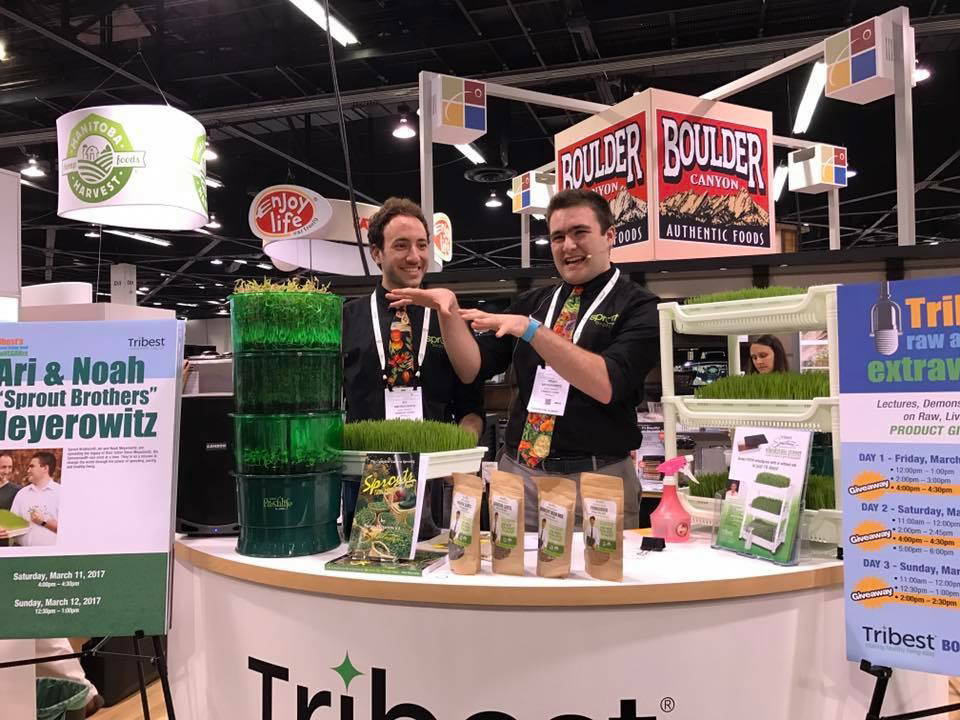 Ari (l.) and Noah (r.) demoing the Freshlife Automatic Sprouter at Natural Products Expo West 2017.
Check out this vintage commercial for Sproutman's invention from the early 1990′s, the "Sprout House," which was also the name of the business he started in New York City in 1979.